The aims and objectives of the Wildlife Producers Association of Zambia are:
To foster the growth of the private wildlife estate and especially its national contribution to food production and security, job creation and community development, wildlife and wildlife habitat conservation, and private sector development.
This aim will be achieved via 6 specific lines of business which are:
Stimulate Interest
To stimulate the interest of non-member, especially indigenous Zambians, Zambian companies or communities to become a wildlife producer and member.
Technical Information
To provide technical information and advice to members and non-member in the private management, production, care and trade of wildlife.
Inform
To provide information and advice to members on the laws, procedures and practices of the Government, its agencies and authorities.
Representation
To represent members, and defend their interests, on private wildlife estate technical, legal and policies issues that may affect all the estate and its members.
Centralization
To centralize and analyse information and statistics on the private wildlife estate and report to members and relevant government authority.
Represent the Wildlife Authority
To represent with members, partners, and clients, by delegation, the wildlife authority, as agreed with said authority.
Secretariat Operation
ZNFU provides WPAZ with a secretariat to deal with WPAZ business, particularly to receipt members subs and make available GTP books to paid up members. This service is available at the ZNFU Accounts Department during normal office hours on Monday to Friday each week.
Composition of WPAZ Secretariat
Please consult the Join WPAZ page for important conditions attached to membership of the Wildlife Producers Association of Zambia.
Composition of WPAZ Executive Committee
Affiliations and partnerships
WPAZ is affiliated to organisations such as the ZNFU (Zambia National Farmers Union) and the PHAZ (Professional Hunters Association of Zambia) in order that all common aspects of our industries such as agriculture and livestock, hunting and tourism can be included in promotion, development and representation. The Wildlife Producers Association of Zambia is a fully paid up associate member of the Zambia National Farmers Union.
Please fill in your details to download the State of the Wildlife Economy in Africa Case Study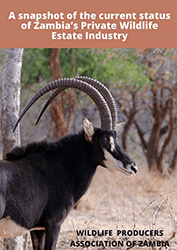 Click here to open the report
USAID Grant to WPAZ:
It gives me great pleasure to announce that the USAID Grant to WPAZ has been approved.
This will bring a great capacity to the association and allow us to achieve more through the Employment of an Operations Manager and secretary as well permanent offices at the ZNFU.
The subcontract is valid for a year and allows us time to get organised and strive towards self-sustainability and a better future.
This is Not a Game!
Visit
for more information
Become a part of the Wildlife Producers Association of Zambia today.